ck Watch Repairs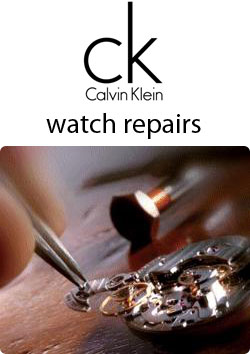 All Calvin Klein watch repairs are undertaken and carried out professionally by our Swiss qualified watchmakers.

What repairs can be undertaken for ck watches?
Replacement of Calvin Klein watch battery/batteries and sealing

Adjust/Reduce ck watch links of all watches and models

Full service for automatic and battery operated (quartz) ck watches

Repair clasps that may not close or fit new clasps for ck watches

New ck watch crowns fitted for all models

New ck watch mineral glasses

Replacement/New ck watch bracelets

Original ck watch leather straps

All Calvin Klein watch repairs are undertaken
Why send your ck watch to us for a battery change?
Use of original Swiss batteries

We offer free advice on whether the watch is in need of a service

Fast turnaround time offered, normally 10-14 working days.

Resealing of your watch
We aim to offer a professional ck repair service, which is efficient and customer focussed.
If a standard battery change is required, we aim to offer a fast turnaround of replacing your battery within 5-7 working days, if your watch is sent to us. Other places may quote a time of 3-6 weeks just to have a battery replaced.
If you intend to visit our repair centre, we can normally change your battery on the day. It is advisable to contact us to check the availability of our watchmakers, if wish to come in to our repair centre.
What is the difference between resealing your watch and water testing?
When a battery is changed in your CK watch, we apply special silicon grease, which prevents water entering from the back case of your CK watch.
In most cases this is enough to allow you to wear your watch if there are accidental splashes of water such as washing your hands or in the rain.
As there are many water seals in a watch which help prevent the entry of water, a standard battery change does not include the replacement of these seals. Due to this reason we are unable to offer a guarantee for water resistance.
If you require full water resistant testing an additional charge will be applied and all seals can be replaced. This is usually only advised when a watch is serviced.
Price Guide
Prices below are subject to assessment and are listed to provide an indicative cost of repair. An accurate quote can be provided after assessment. All prices quoted inclusive of VAT. A postage and packing charge of £5.95 applies on any repair that we return back to you.
Unfortunately, we are unable to provide estimates or answer any queries for any repairs/replacement parts required without assessment of the watch i.e. by email/phone/fax.



Battery replacement and pressure test

From £15.00

Full service for battery operated (quartz) watches

From £75.00 + Parts

Full service automatic/mechanical watches

From £95.00 + Parts

Full service quartz chronograph watches

From £125.00 + Parts

Full service automatic chronograph watches

From £195.00 + Parts

All other repairs or replacement parts

(Bracelet shortening, additional links, clasps, crystals, straps, bracelets, part jobs)

Price on assessment
Sending your watch to us for assessment
If you would like to send your watch for an assessment, please read the guidelines for sending your watch to us which can be found on the watch repair page. If the estimate is not accepted only a return postage and packaging charge is payable.