About Us
Babla's Jewellers have become an established name on Wembley high street since 1994, gaining a reputation for the sales of quality watches, clocks and professional watch repairs. We are an official certified watch repair centre for Omega, Rado, Longines and Gucci.
Our online website aims to translate our values of delivering exceptional retail customer service to an online environment. If an item is shown as in stock, that usually means we actually have the it in stock and are able to despatch the item to you the same working day.
Buy with confidence that any purchase made on our website is supported with the after-sales service of a 'bricks and mortar' company.
Why Us

When we say it's in stock, it's in stock
Many websites will actually try to source your item once you have placed an order. When we say it's in stock, we actually mean it!

Next working day delivery
Order before 3pm and select next day delivery at the checkout to receive next working day UK delivery.

Easy 28 day returns policy
If you are not satisfied with your purchase, return your purchase within 28 days.

All orders shipped from the UK
All orders are despatched from our UK based despatch centre.

100% Secure website
Look out for the padlock when you make your purchase. This means our server is secure. No card details are ever stored on our server.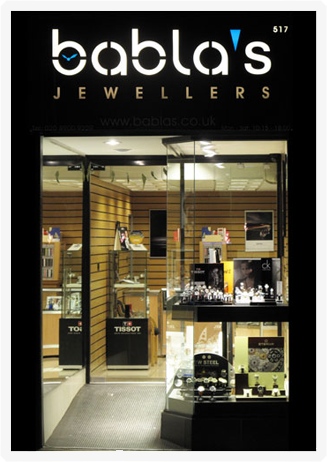 Our independent reviews
Don't take our word for it
All our customers are sent out an automatic email once we despatch the order. Any feedback given is published immediately meaning you get to see the good, bad and the ugly!
Thank you to all our customers that have shared their experience and help us improve our service.
History
The first branch of Babla's was originally established in ZANZIBAR in 1895, making it over 100 years! To date, the business continues to operate serving the time keeping needs of locals and the many tourists; located on Main road, opposite old post office in Stone Town.

Below is a photo taken in the 1960s.




The second branch was opened in Dar-es-salaam, Tanzania in 1968, under the name of Babla's House of Watches Ltd.